The Forrester Wave™ , Dynamic Data Masking Solutions, Q3 2021
Micro Focus' Voltage Structured Data Manager and Voltage SecureData, named the 'Leader' in Dynamic Data Masking!
For CyberRes, the 2021 recognition as the leader in Dynamic Data Masking demonstrates the value of the out of the box tools offered by the Voltage Data Privacy and Protection portfolio including performance, scale, data classification, masking techniques, reporting, legacy platform support, and support for compliance requirements such as GDPR, CRPA, and HIPAA. This research report identifies the top vendors in the Dynamic Data Masking (DDM) Solutions market today. The vendors in this wave offer Dynamic Data Masking capabilities as a part of a data management or data security offering, and are scored against criteria across current offering, strategy, and market presence.
In this 25-criterion evaluation of dynamic data masking providers, Forrester identified the eight most significant ones and researched, analyzed, and scored them. This report shows how each provider measures up and helps security and enterprise architecture professionals select the right one for their needs. According to Forester, "Overall, Micro Focus Voltage brings together a feature-rich offering for masking that offers both breadth and depth."
Voltage received the highest scores possible in the following criteria:
Data Classification
Masking Techniques
Performance and Scale
Data Re-identification/Inference Prevention and Detection
Compliance
Ease-of-Use
Flexibility
Additional Security Functionality.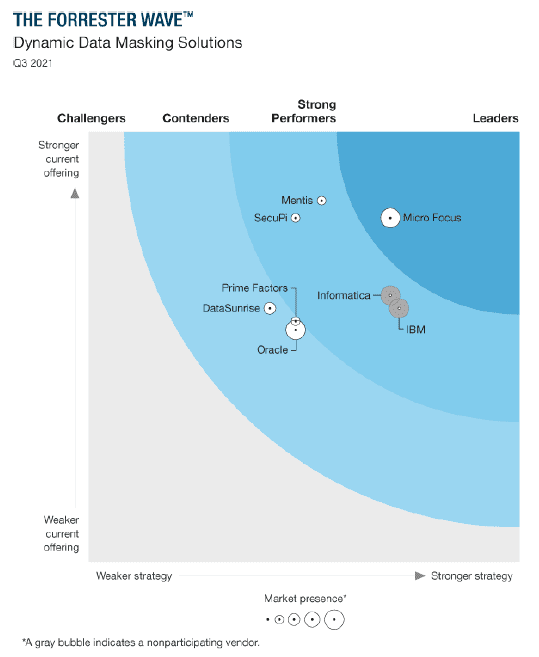 Download your copy now
* Required field